Shepherdess Jen, Reporting for Duty!
WHEW!!! It happened...the sheep were sheared...they were brought to our house...and they are currently grazing happily in their new pasture! And I think I might still be in a bit of shock over the whole thing! So please bear with me if I sound scattered (and still a bit tired!)!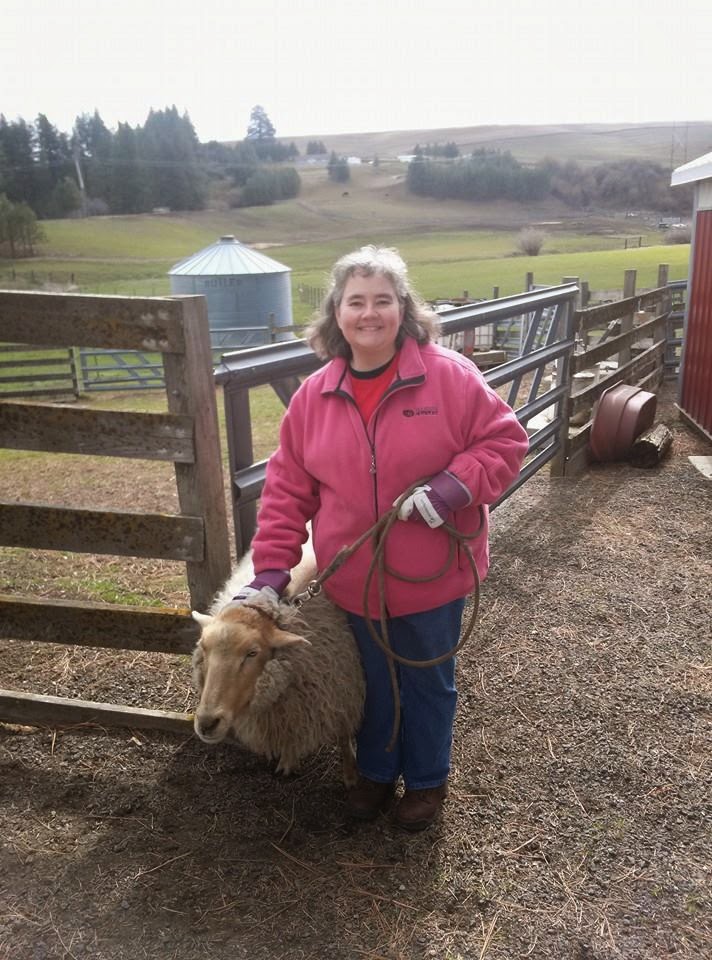 Mikey and I, pre-shearing
We arrived at Lee's house around 8:40 a.m., and met Martin the Shearer (as he will forever be known in my mind), and said howdy to all of the sheep, taking one last look at them with their winter fleeces. Then Lee's friends and neighbors who come to her Shearing Bees every April and October began to arrive. It was really neat to see a couple of the familiar faces from my first Wool Gatherers meeting, back in February - Wool Gatherers is a local knitting/spinning/fiber guild/group that meets once a month, and Lee is on their board. So saw some folks I knew already, and met some new ones, including the local sheep-owners who also raise Icelandics. Once Martin had his equipment set up, the shearing began! Here are shots of my 3, getting their summer haircuts: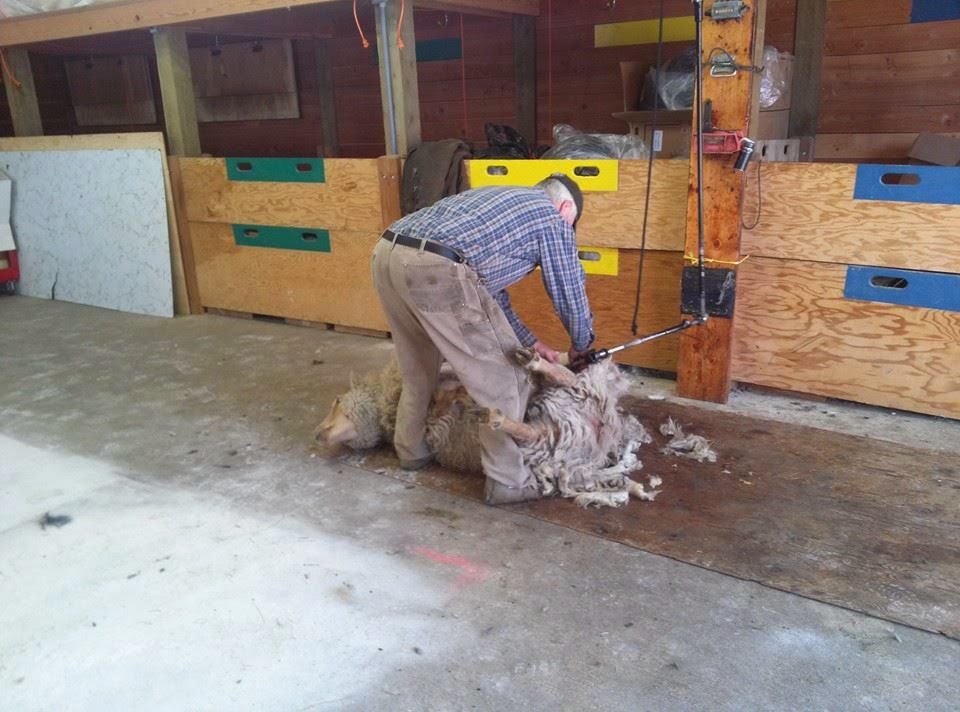 Mikey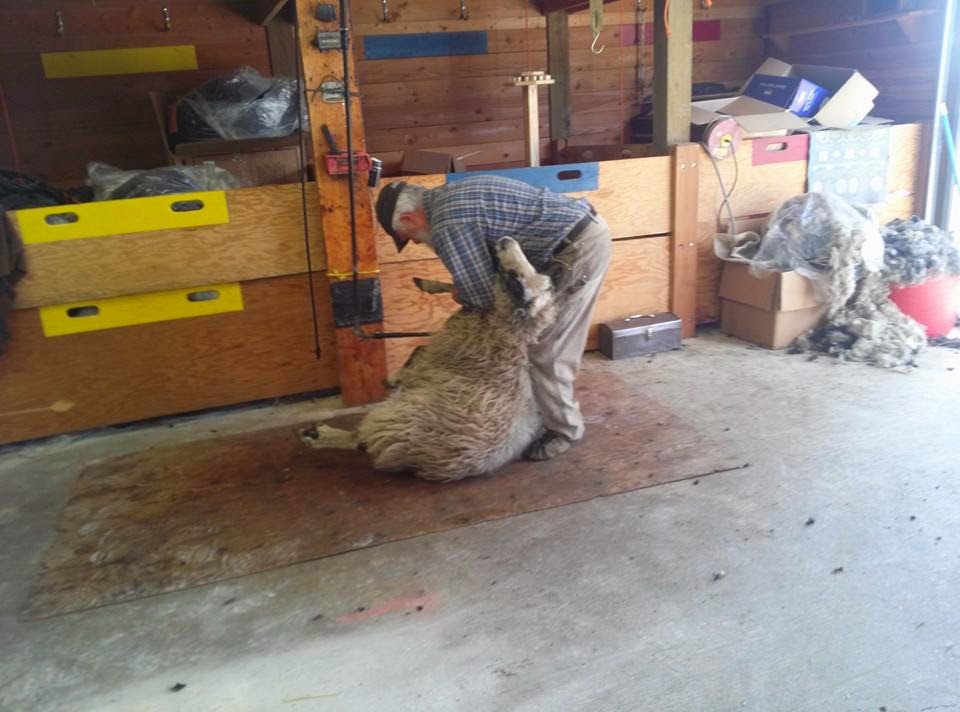 Panda Bear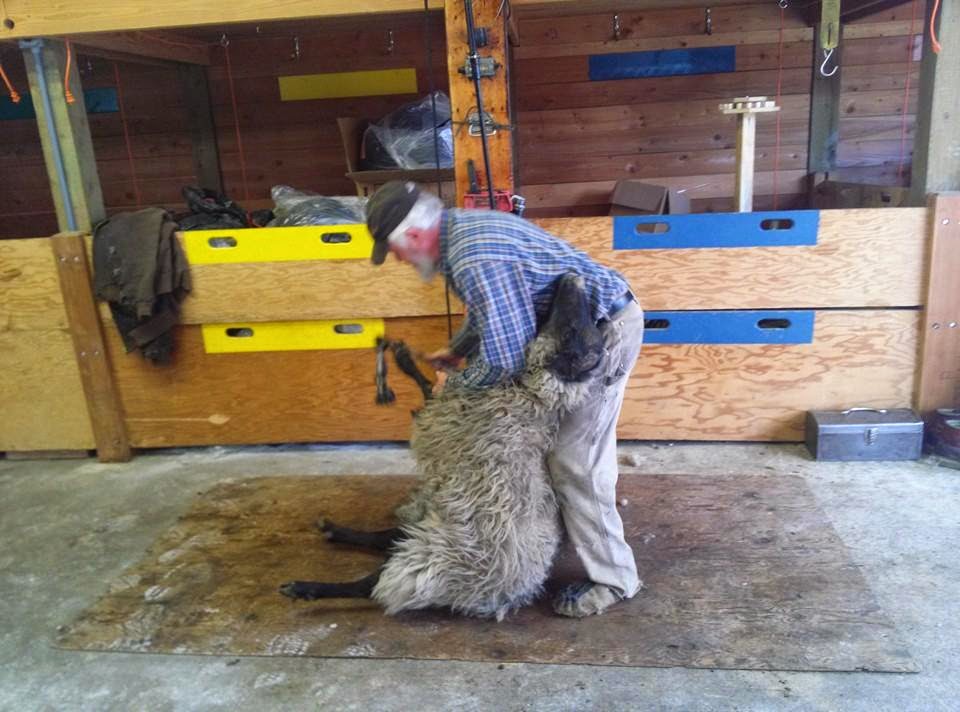 Black Velvet
After Martin was finished with them, they went over to the next station, where they got their pedicures done by 3 amazing vet students from Washington State University:
These girls were so fabulous! I was right there with each of my 3, and was able to ask questions of these ladies, and they were so knowledgeable, friendly, and helpful! When the sheep are sheared, it's common, no matter how careful and experienced the shearer is, for them to get nicked. The beauty of sheep (one of the many amazing things about them) is their ability to heal - their skin heals so quickly that Lee says scientists need to work on figuring out how to graft sheep skin onto human burn victims! But sometimes the nicks are deep, and so the pedicure station takes care of treating any big cuts with betadine solution. In addition, if the sheep requires worming medicine, they get that while they're in the sheep chair, having their hooves trimmed. Once all is finished up, they are done for the day (and quite relieved to get back to their grazing)!
34 sheep were sheared yesterday - and we found out that Martin the Shearer has been doing this for 48 years...that's a year longer than I've been alive! He was so interesting and kind, and it's clear that he loves what he does. He talked about shearers who shear flocks with thousands of sheep - I can't even imagine. He also told us about his travels, and the variety of places where he's worked as a shearer, including New York, Wyoming, and the Falkland Islands! I am just grateful that he ended up in northern Idaho - we are so lucky to have his expertise!
After a wonderful potluck lunch following the shearing, Lee loaded up my 3 into her Ewe Haul (yeah, that's what the sign on it says...it's the back of her big pickup truck that her husband modified, adding sides and a top for transporting sheep), and we drove out to our house. After getting them unloaded and up to their new home, we got their leads off of them and off they went...I think maybe 1 second passed before they were all grazing away, content as can be. Lee said, "I don't think I'm going to even get a backward glance!" We just laughed - this is what we wanted - for them to be happy and content, and to have a safe, loving home to live out their days as fiber sheep.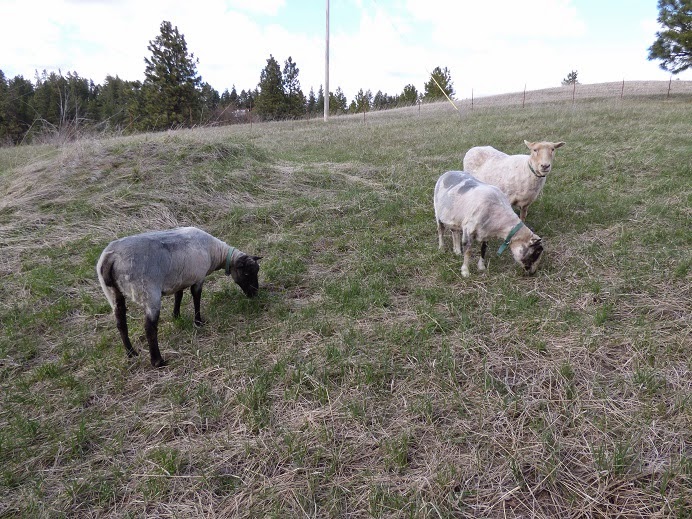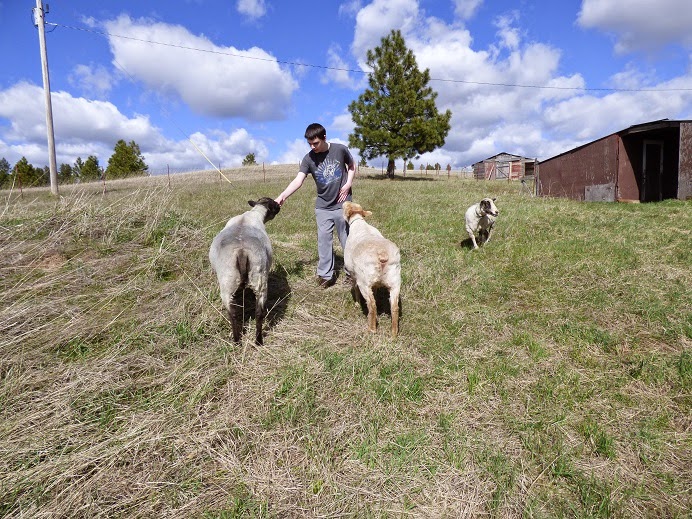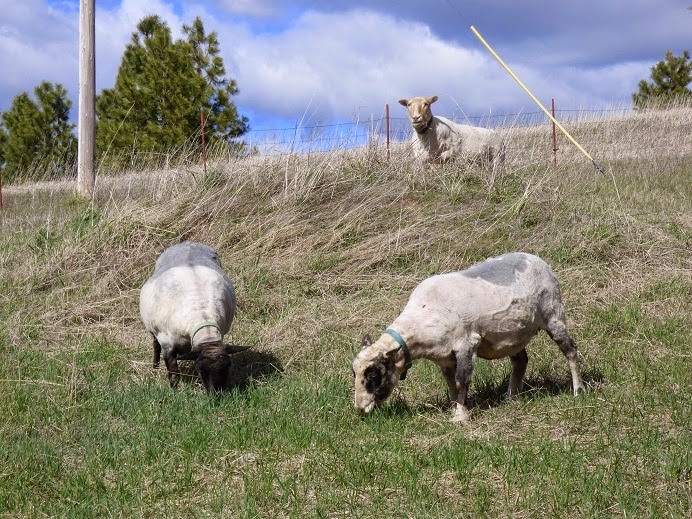 There is a Spanish proverb that says, "Wherever the foot of the sheep touches, the land is turned into gold." Not only is this true from an economic standpoint, but also from the point of view of those who love these animals. I have fallen in love with sheep - with my 3, with Lee's remaining 25, and with all of the ones I saw yesterday at the Shearing Bee. Not only is our land blessed by these animals, but our lives are as well. Thank you, Fate!