Shearing Day and Goodbye 2017!
Posted by Jennifer Bogut on December 10, 2017 |
31 Comments
Hello Readers!
Life here is busy...it never really occurred to me that having 9 sheep would make for fewer hours in the day to keep up on my blog, spin and knit, or even clean my house (which, to be honest, was never high on my list of priorities, but you know, I should occasionally make an effort!)!! But I wouldn't have it any other way, and I appreciate all of you continuing to read when I am able to post!
I thought I would share some pre and post Shearing Day pictures - it's always so amazing to see how different the sheep look! You would think I'd be used to it by now, but I'm always shocked at how tiny they are without their wool, and it was made even more obvious this fall with both Daisy and Cupcake remaining unsheared. Being Hampshire/Suffolk crosses, they do not grow wool at the same rate as Icelandics or the Finns, so they are only sheared in the spring, but I did take both of them to shearing so that they could get their hooves trimmed, their vaccination, and their worming medicine given to them by the wonderful vet students from Washington State University who come to our Shearing Bee! In addition, Daisy had a bit of a trim...on her backside. There is a shearing procedure called crutching - this is simply the removal of wool from around the tail and between the rear legs of the sheep. This is to help prevent flystrike, as well as to help expectant ewes keep clean before giving birth. Daisy isn't going to be giving birth, but we think her lack of a tail makes it difficult for her to urinate without getting it all down the backside of her leg - and last spring we found she had developed a really bad ammonia burn there because the wool had soaked up all of the urine over the winter. To prevent her being miserable and possibly getting infected sores on her leg, I had her crutched, so she has a rather bare bottom and legs now! But this is far preferable to being in pain or getting sick!
You'll notice in the post-shearing pictures that Panda Bear is still sporting her wool coat! After being so sick in January, I've never felt like she gained very much weight back. She did fine all summer, but she just doesn't have the same mass to her like she did before the copper debacle. There was a veterinarian from WSU at shearing, and I asked her to give Panda Bear a look to see if I should let her keep her fleece - if she can't keep weight on, and doesn't have wool to keep warm, her body is going to be working overtime to stay warm as opposed to keeping a healthy weight, and that can mean disaster for a sheep, particularly one who is no spring chicken (she is 9, which is late middle age/early old age for sheep). Dr. Tasha gave her a thorough exam - not just the lookover that I thought she would (again, I don't have the words to express how awesome the sheep vets from WSU are!!!)! Afterward, she said that she was really impressed with how far PB had come since her illness - she knew the situation because they discuss Panda Bear's history as a way to teach about copper toxicity! Yes, Miss PB is still quite the famous sheep! So she said that yes, she is doing well, but she agreed with me - she doesn't have the weight on her to get through winter without her wool. I was so grateful to have that confirmation and to know that I was making a good decision for my sweet Bear!
Pre-shearing: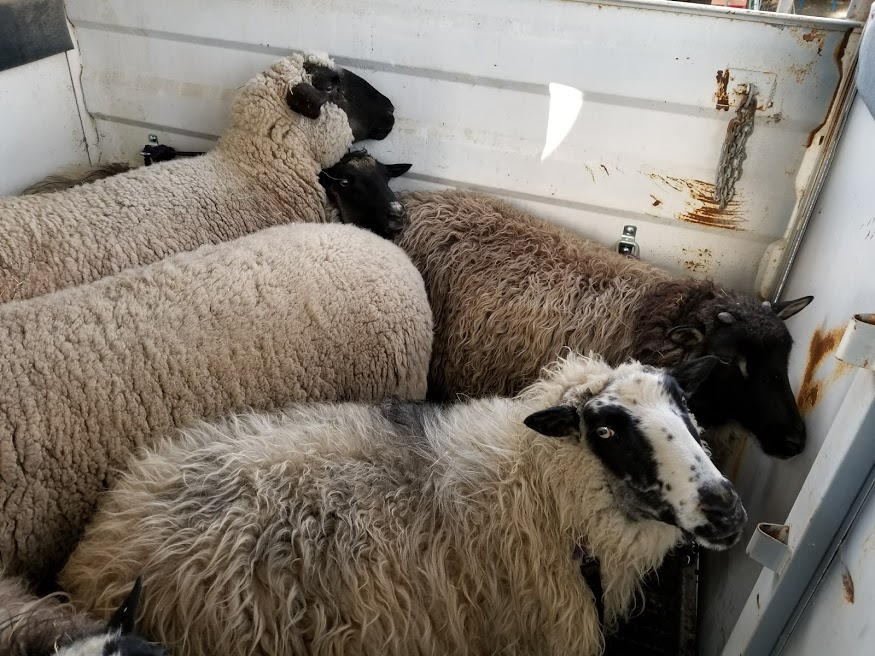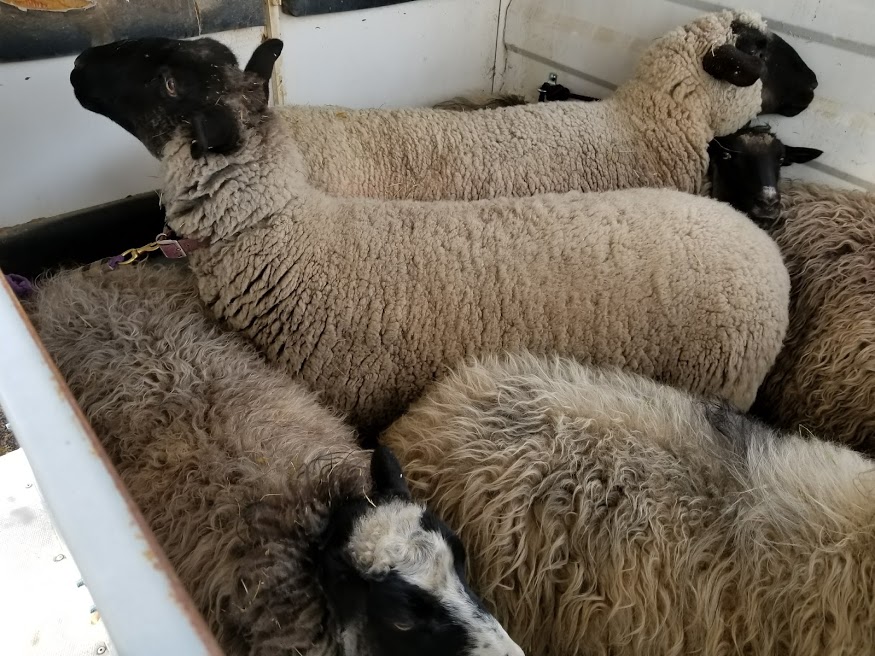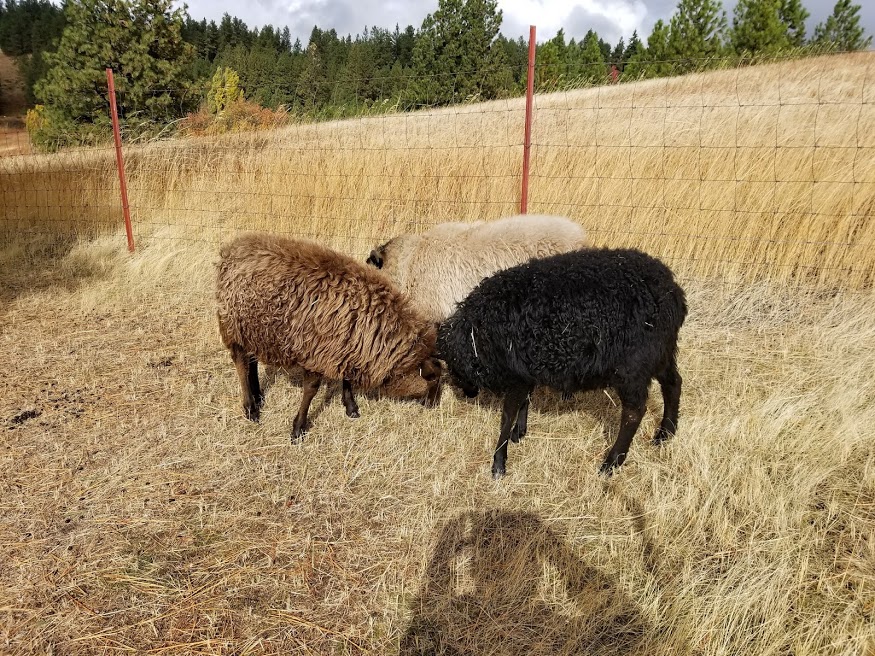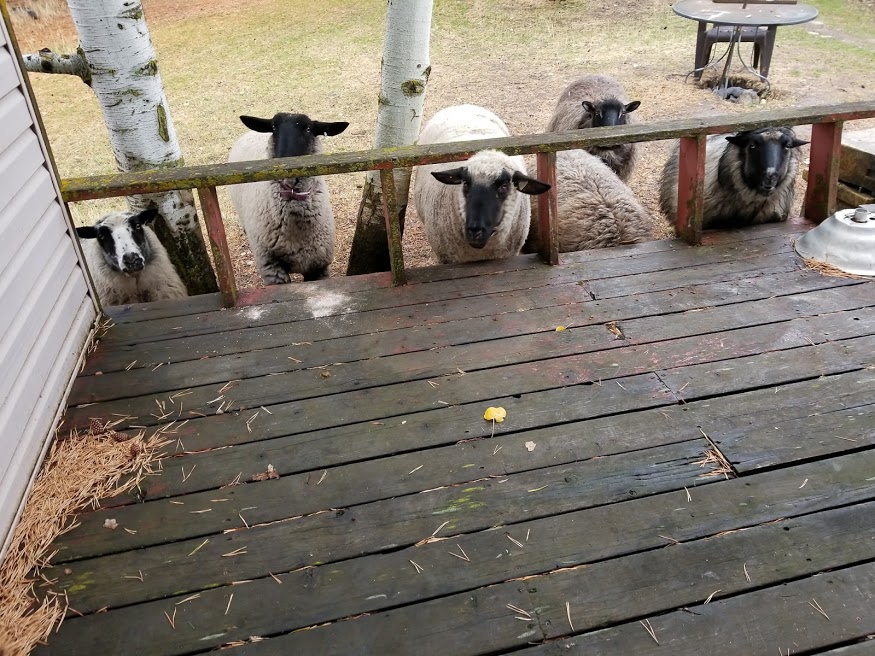 Post-shearing (after 10/14/17):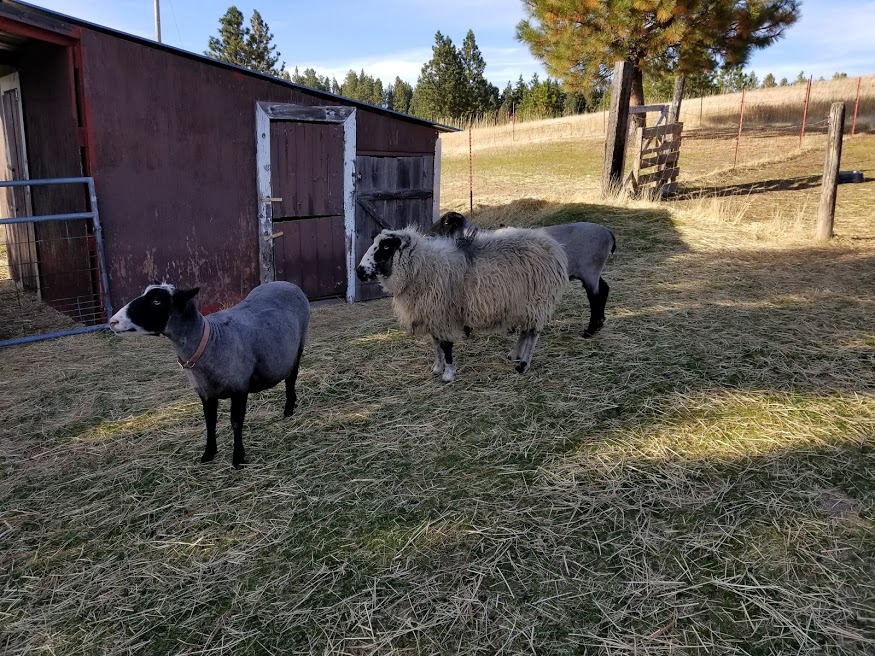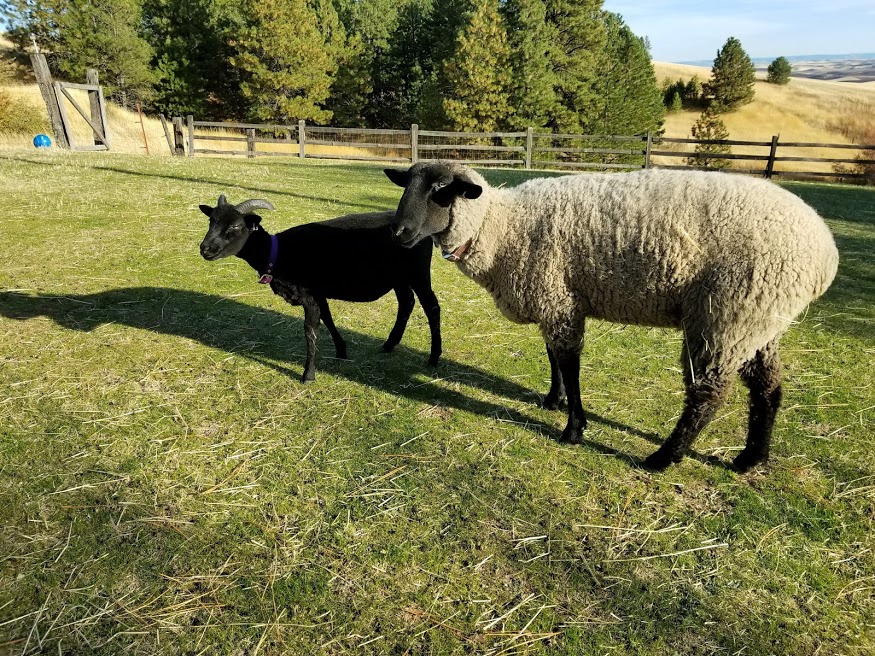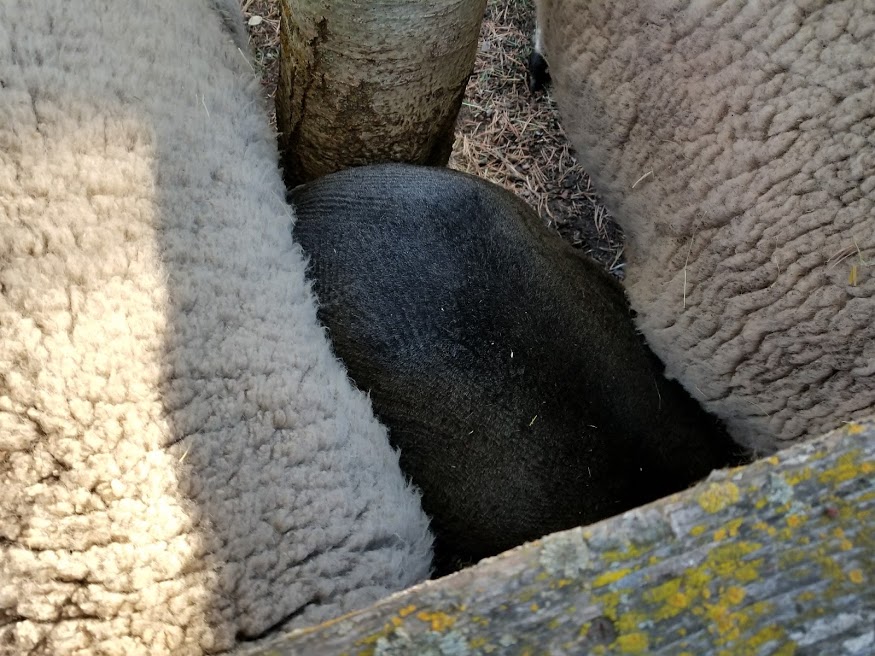 And now everyone is growing out their wool coats...it has been very cold here the last couple of weeks, so I'm thankful to see those wooly curls coming back!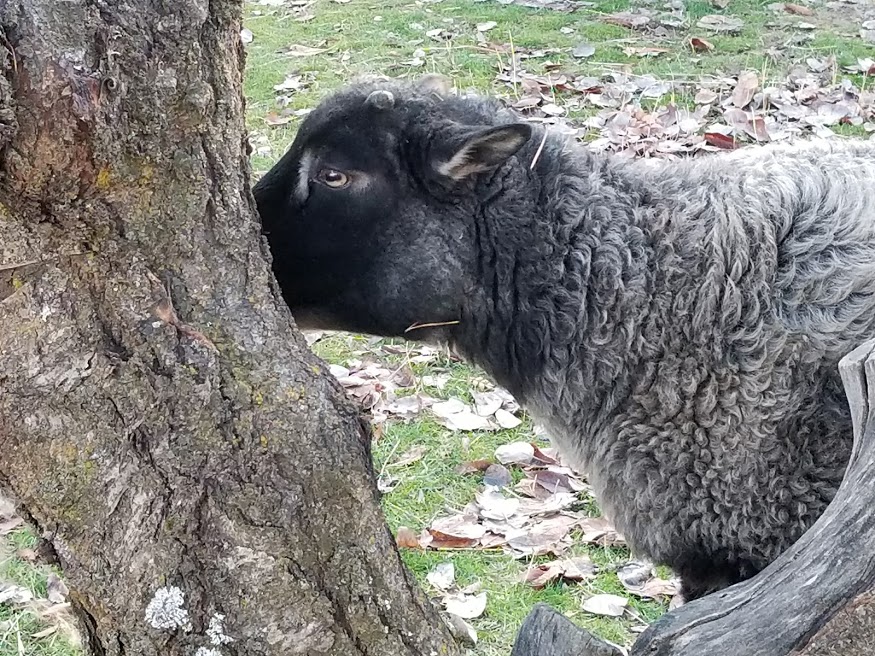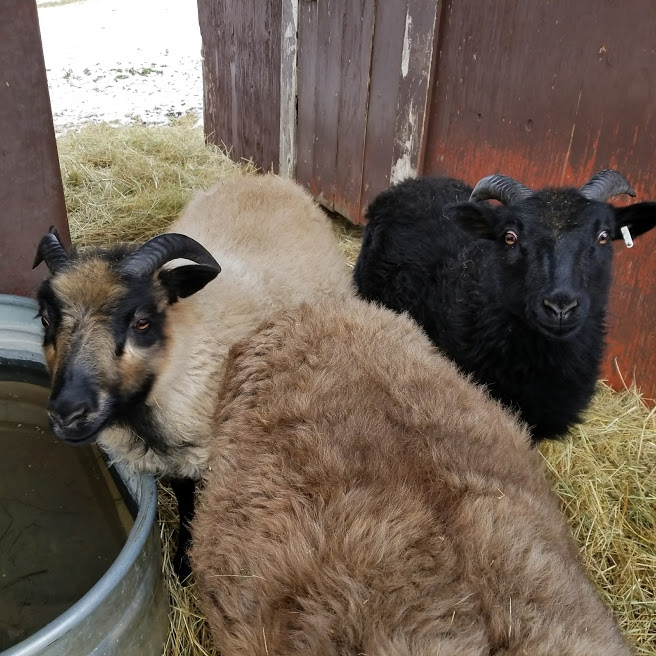 And Miss Panda Bear looks GORGEOUS and very warm!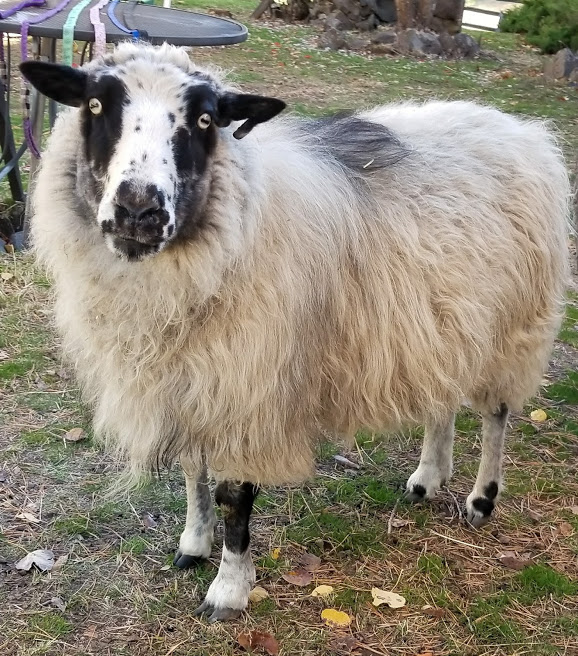 So it's nearly time to say goodbye to 2017...to be honest, I'm not terribly sad to see it go. There have been good times, of course, but 2017 will always be the year I lost Mikey, and nothing is ever going to change that. I miss his sweet face everyday, but I want to remember the good times with him and focus on all I've learned so that going into 2018 and beyond, I can always do the best for my flock. Thank you all for reading - for journeying with me as I learn and grow, and sticking with me when disaster hits. I appreciate you so very much!
As we look forward to 2018, I hope you'll visit the Blaine Fleece and Fiber group on Ravelry - we have SO many fun activities planned for the new year! In the meantime, Happy Holidays to each one fo you from myself and the Fellowsheep! :)