Planting Seeds
Posted by Jennifer Bogut on February 13, 2015 |
5 Comments
One thing that I've been the most concerned about for my sheep is their food. I'm not worried about their winter food - I plan to buy clover hay from a local dealer, and I now know, thanks to Lee, that my three sheep will require 1.5 tons of hay for the winter months. What I am concerned about are the plants growing in the pastures that they'll be using. These pastures haven't been mowed, fertilized, or cared for since we moved out here, so they are full of lots of things - but my Dear Husband assures me that there are a couple of different types of grass, so they'll be fine. Lee also reassured me that these are hardy creatures who will do just fine when they make the transition to our fledgling farm. But what do I do when I'm worried excessively about something (besides nag DH about it)? I read!
One of the best books that I've read so far is Storey's Guide to Raising Sheep. In reading up on feeding sheep, I learned that they do best when they have a mixture of three different types of plants on which to graze - grasses, legumes, and forbs (weeds). According to Storey:
Ideal pasture is a mixture of grasses, legumes, and forbs - not a monoculture of one kind of plant. The diversity of plants provides a more balanced diet for longer periods during the growing season under a wider variety of weather conditions,...For sheep, the shorter sod-type of grasses and legumes, such as bluegrass and white clover, are ideal because they don't trample down as much.
Well, I know we have wheatgrass, and I know we have weeds galore, but the one thing I wasn't sure about was some kind of legume. So I visited our local Spence Hardware and was directed to the seeds...fortunately for me, it was Super Bowl Sunday and a very quiet day, so I was quickly helped by a gentleman who listened patiently as I tried to explain what I was looking for and why. I also mentioned the book that told me that I could "frost seed" clover to improve the foraging for my sheep. He smiled politely and found the White Clover seeds that I was looking for, then helped me figure out how much I would need (which was difficult since I have no clue how big our pasture is). I'm sure that I was just the type of customer he wanted to deal with on Super Bowl Sunday - a brand-new-to-raising-sheep-person who has learned everything from books and is trying to sound like she knows what she's talking about, even a little bit! Fortunately, he was very patient and helpful and wished me good luck with my sheep!

Today (2/12/15), I realized that our weird spring weather is going to make frost seeding a bit difficult - I checked the weather forecast and discovered it's not even supposed to get to freezing at night for the rest of the month. Sigh...I suppose I might luck out and get one really cold night, but as it's looking a bit doubtful, I figured I'd best get those clover seeds out in the pasture now before it gets any warmer (it ended up being 60 here today...ACK...what happened to winter?!?). So my Dear Daughter and I went outside with my trusty new handseeder and clover seeds: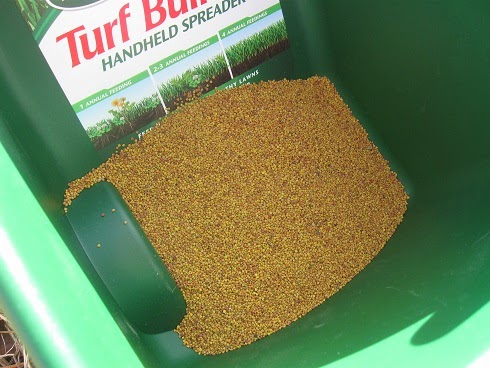 And we commenced to seeding! DD did a great job pulling back the overgrowth so that the seeds had a chance of getting into the soil, and I followed along behind, operating the handseeder. We decided to only seed one small section of the pasture because once we got out there, it appeared that I had not bought enough seed after all! But I figure this will give me a chance to see if this works on the southwestern strip of pasture. I also saved a little bit at the end to cover this mound that sits in the middle of the field: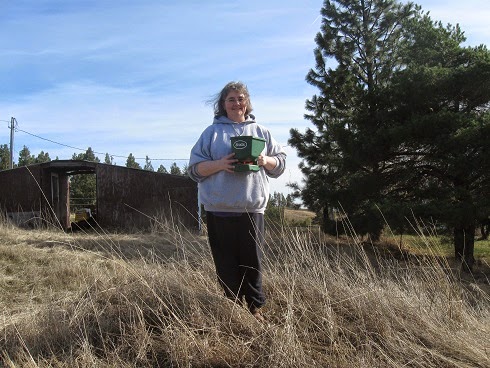 Yep, that's me, on top of the hill, proudly clutching my handseeder. All I need now is a pitchfork...or a shepherd's crook!!! Ah, but I digress...
After using up the seed we had, we stopped for a couple of pictures - hopefully you can see the tiny little clover seeds, along with some green sprigs: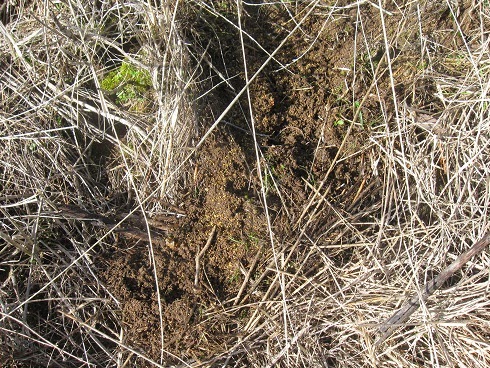 And as we made our way back to the sheep barn, I noticed all of the green grass starting to come up: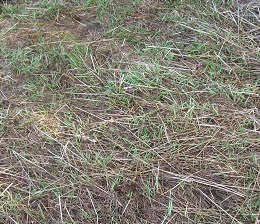 It's amazing how something as simple as grass and planting seeds can make me so happy. I think there's more to it than that - it's the idea of tending animals, of making sure they have the right food to keep them healthy and happy - it's not only planting actual seeds, but planting the seeds of love for the land and the animals that we are stewards of, and realizing that my DD understands this as well - her concern about the trees being too prickly for the sheep and asking me if they needed to be trimmed before our babies come home made my heart swell.

So we'll see how the clover seeds do in our pasture...and work will continue on the barn this weekend! We're getting closer and closer to April!