(1/1/17) What's Happening at BFF in 2017?
Posted by Jennifer Bogut on June 15, 2017 |
19 Comments
January 1st, 2017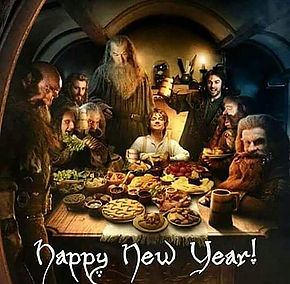 Happy New Year Everyone! I woke up today to snow-covered sheep - we had a winter-weather advisory last night, but it looks like maybe it's over for now...I think the sheep are relieved, and I know I am! But regardless of the weather, I'm ready for a fresh start in 2017, with plenty of goals and plans that I think are achievable this year!
Before we get too far into the new year, I want to make sure you all know what fun and exciting things we have planned for 2017 in the Blaine Fleece and Fiber group on Ravelry! With the help of my amazing Advisory Board (the lovely administrators in the group), we've planned loads of activities to appeal to all of our crafty friends! Whether you knit, crochet, spin, dye, or weave (or any combination of the Ravelry crafts), there is something for everyone! And a couple of the activities have a Middle Earth theme! To celebrate the 80th anniversary of the publication of The Hobbit, we're stashing down and walking through Middle Earth - and one of the updates to the shop will be all-things Hobbit! So come on over - join the group - and check out these super fun threads - the links will take you to each thread where you can find all of the pertinent information!
Knitting Squares for World Record - through January 20th - helping a lady in Ireland try to break the world record for the largest knitted blanket! I'm offering prizes and will collect squares to ship to Ireland!
St. Distaff's Day Event - January 7th-14th - Spinning and Prizes!
Icelandic Spin-Along - January 1st-February 28th - Spinning Icelandic and Prizes!
2017 Spin Your Goal-Along - Spinning and Prizes!
2017 Fiber to Finished Object - Knitting, Crocheting, and Weaving with Handspun! And Prizes!
2017 Stash Down Through Middle Earth - Helping all of us get our yarn and fiber stashes under control!
2017 Walking Through Middle Earth - Motivating one another to get up and walk!
Wondering what BFF updates are coming up in the Etsy shop? Keep an eye on this page!
In addition to the above activities, we will periodically have -alongs or contests thrown in for good measure - I do love to keep things happening and fun in the group! I hope you'll join in some (or ALL) of the fun! And I promise to keep you posted on all of the happenings with the Fibery Five (sometimes it's a bit difficult to get all Five in the same picture!)!