The Wool Gatherers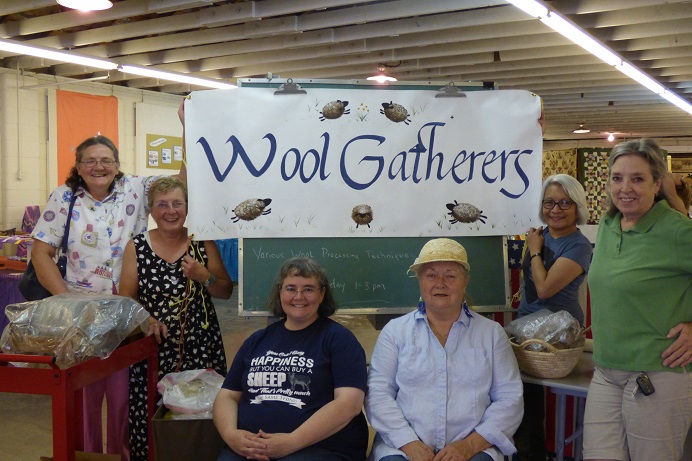 Mission Statement
To encourage friendship and exploration as we learn and share together our affinity for natural fibers and their wide ranges of textures and colors, and we openly encourage curiosity in new techniques.
The Wool Gatherers meets every month to enjoy one another's company and to share our fiber projects. We also participate in demonstrations at various events in our communities, thus sharing our love for the fiber arts with others. Our monthly meetings are held on the 3rd Sunday of every month and include a potluck luncheon and fiber arts educational program.
2017 Calendar
January 15 - Rug Hooking, Monica McLean's home (Moscow, ID)
February 19 - Felted Bowls, Bishop Place (Pullman, WA)
March 19 - Felted Bowls and Felted Eggs, Bishop Place (Pullman, WA)
*April 23 - Adding Beads to Your Work, Potlatch Library (Potlatch, ID)
May 21 - Mitered Blanket Squares, WA/ID Pea & Lentil Comm. (Moscow, ID)
**June 17 - Cheese Making/Weaving Demo, Brush Creek Creamery (Deary, ID)
July 16 - Felted Rugs from Fleece, JerryLee Farm (Viola, ID)
August 20 - Potluck BBQ (no program), Jean & John Pici Farm (Deary, ID)
September 9 - Wool Production Demo, Palouse Empire Fair (Colfax, WA)
October 20-22 - Annual Retreat with classes, Camp Sanders (Tensed, ID)
November 19 - Stash-Bash Exchange, Umpqua Bank (Pullman, WA)
December 17 - Christmas Party, Bishop Place (Pullman, WA)
​*Fourth Sunday due to Easter falling on the 3rd Sunday of April
**This business is not open on Sundays, so June's meeting will be on Saturday.
For more information, please contact
Lee Bates - leebates@sheepskinsnyarn.com